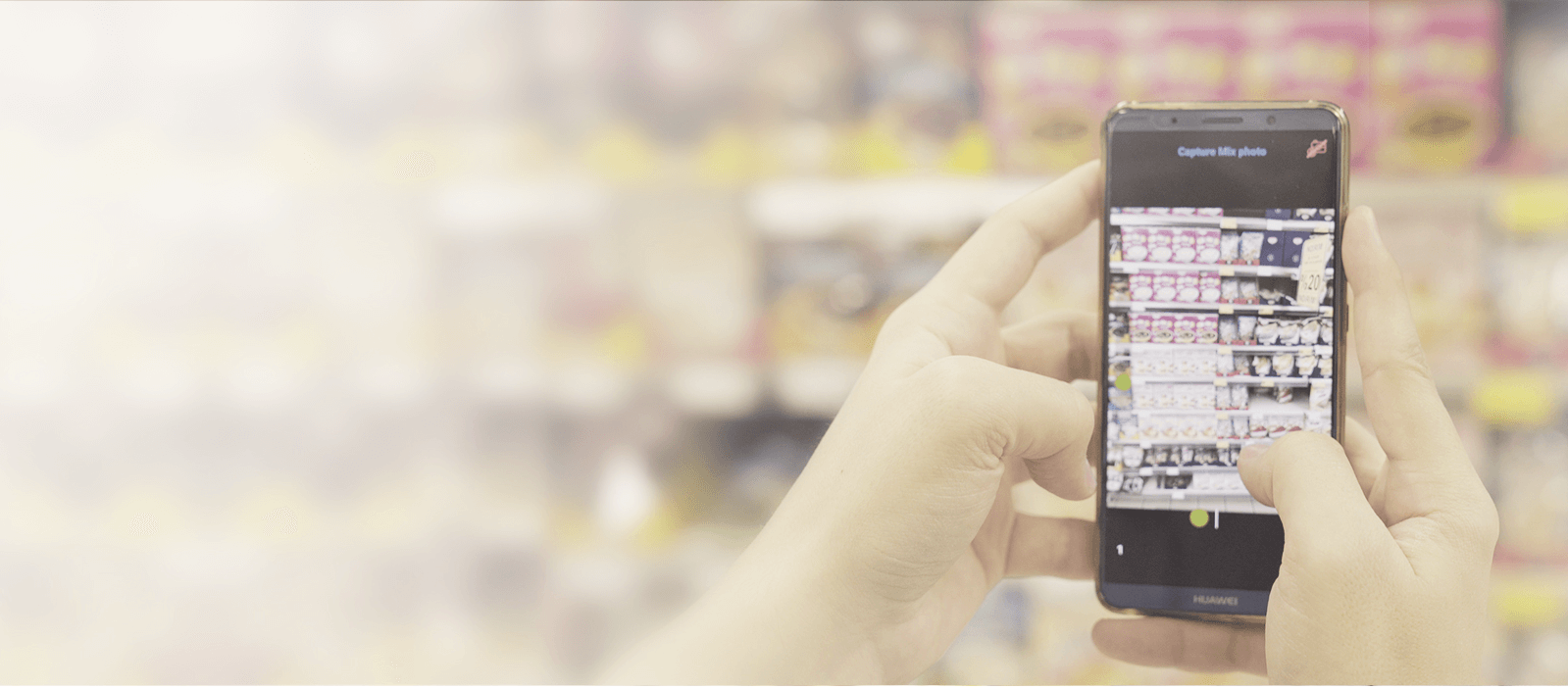 Monitoramento De Execução Digital Na Loja
Monitore a execução na loja quantificando os esforços de merchandising, medindo a conformidade do preço de venda, auditando a área de vendas e aproveitando as lojas perfeitas.
PEDIDO PILOTO
Create an immersive shopping experience for customers with digital in-store execution. Thanks to Vispera's end-to-end approach, in-store execution can be done in various ways and it's up to the retailer & CPGs to choose what they want to use: creating digital shelves and planograms, all with the power of visual intelligence and AI.

Vispera's digital in-store execution tool optimizes product displays for maximum impact by automatically adjusting to changing retail environments. From monitoring inventory levels to executing retail audits and even giving you valuable insight to forecast sales, Vispera provides you with complete control over SKUs. In the end, it is the ultimate tool to execute perfect stores.
Por que o varejo de supermercado deve usar a solução Monitoramento De Execução Digital Na Loja

Digitalize auditorias de lojas

Acompanhe o desempenho de ativos e lojas em tempo real

Baseie suas decisões em dados objetivos e imparciais
Vispera Monitoramento De Execução Digital Na Loja Solution
Chegou a hora de conhecer as soluções de última geração da Vispera para superar os desafios de execução na loja e garantir um desempenho de varejo impecável. A Vispera desenvolveu soluções para monitoramento de execução na loja para ajudá-lo a se concentrar nos aplicativos mais eficientes, gerenciar SKU, marca, atividades em nível de categoria, acompanhar o desempenho dos ativos e aumentar suas vendas!
CONSULTE MAIS INFORMAÇÕES
In-Store Execution, Powered by Visual Intelligence
Thanks to the approach that combines image recognition-based mobile solutions with machine learning, you can obtain real-time, objective, and accurate data with one single shelf image. Moreover, you can direct field teams in the store with on-the-spot call-to-actions and instant reports. On the management side, you can keep track of all your products with advanced filtering to make faster decisions. After all, you can maximize the customer experience while executing the perfect store.
O que a solução Monitoramento De Execução Digital Na Loja faz
Com o monitoramento digital da execução na loja, as marcas de CPG podem obter controle total sobre seus SKUs e todos os tipos de displays. A solução oferece aos fornecedores de CPG controle total, seja no monitoramento dos níveis de estoque, na execução de auditorias de varejo e na previsão de vendas ou no envolvimento com os clientes na loja. A plataforma de reconhecimento de imagem da Vispera para merchandising fornece às marcas insights de produtos em tempo real que melhoram a descoberta, o engajamento e as vendas de produtos
Monitoramento e auditoria de execução de varejo
Acesse ações em tempo real de uma perspectiva imparcial diretamente em seus pontos de venda, implementando tecnologias Vispera em seus processos de monitoramento e auditoria. Aproveite a flexibilidade dos processos de coleta de dados livres de erros humanos, independentemente de sua própria equipe ou auditoria de terceiros.
Quantificar merchandising
Use a tecnologia de reconhecimento de imagem Vispera para capturar dados granulares em todos os seus canais e regiões. Posicione essa tecnologia inovadora como seus olhos digitais em lojas físicas para rastrear melhor os principais SKUs e atividades dos concorrentes.
Melhore a execução perfeita da loja
Com o Vispera, você pode medir critérios de sucesso, como disponibilidade, visibilidade e conformidade, para posicionar seu produto corretamente e oferecer a seus compradores a melhor experiência possível ao criar scorecards para cada ponto de interação com o cliente.
Confiado por mais de 30 clientes satisfeitos em todo o mundo
Ouça sobre o Vispera de players de varejo de primeira linha
Comece sua nova era para a digitalização na loja, hoje
Nós somos a Víspera. Consideramo-nos líderes da transformação digital, impulsionando soluções inovadoras de visão computacional para o varejo. O monitoramento de execução digital na loja da Vispera oferece as vantagens necessárias para ter sucesso em um mundo de varejo dinâmico. Obtenha sua demonstração hoje e experimente a magia.
Soluções de Inteligência de Varejo Vispera