Retail businesses face various challenges, and one of the biggest is ensuring smooth in-store operations. With the advent of modern technologies and consumer expectations, retailers and CPGs need to be more agile and responsive to stay competitive. However, executing retail operations can be complicated, with constant monitoring of shelves, inventory, and pricing, among other things.
This is where On Device Recognition comes in. It's a game-changer in retail execution and offers an ultimate reporting capability that helps retailers overcome modern challenges. With On Device Recognition, reports are generated in milliseconds, providing instant on-shelf availability and price compliance. This means that retailers can enhance their productivity and operational efficiency, all without interruptions.
What sets ODR apart is that it offers full on-device recognition on both IOS and Android devices, meaning there is no need to upload data to the cloud. With no dependency on internet connectivity, your field force can get instant On-Shelf Availability & Price Detection reports while in front of the shelf.
Another point is that On Device Recognition is not only capable of providing instant reporting under limited or absent connectivity, but it can also save significant time by avoiding bulky traffic between device and cloud even under full connectivity.
This feature makes ODR a more efficient solution compared to cloud image recognition, with existing customers experiencing up to 25% time savings. It's a significant advantage that enhances in-store productivity, making it a go-to choice for retailers and CPGs.
In the foreseeable future, we expect everyone to switch to pure mobile computing (ODR), regardless of connectivity, because of the increased in-store productivity and decreased data costs it offers.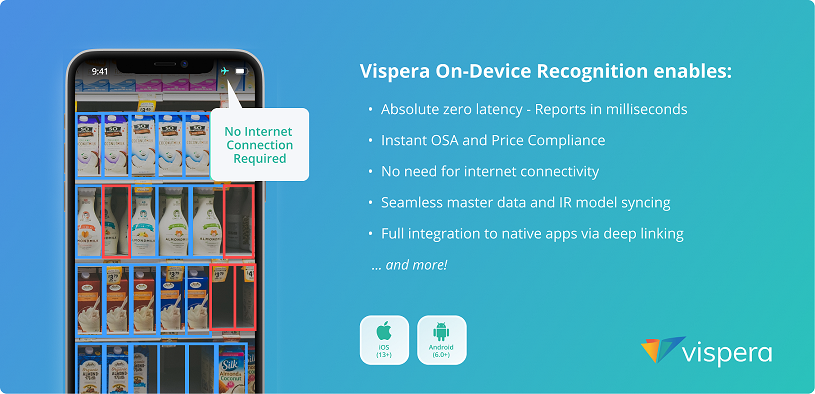 With this new advancement, field agents can execute store visits with more agility and precision. This technology offers instant insights, allowing retailers and CPGs to take corrective actions in-store to improve sales uplift. It's a game-changer for CPGs, helping them perfect their store operations with more agility and precision.
At Vispera, we're proud to offer ODR as part of our suite of cutting-edge technologies. Our flagship customers are already using this technology to enhance their in-store operations, and we're confident it will help your business too.
If you're a retailer or CPG looking to improve your in-store operations, we encourage you to download our On Device Recognition onepager. It provides more detailed information on how this technology can help you perfect your stores and stay competitive in the market.
Fill the form now to see how the magic works!