Vispera is recognized by APAC Business Headlines as a leading company enhancing the retail industry and improving customer satisfaction by leveraging advanced technologies. Vispera is listed in APAC Business Headlines' new edition, "10 Prominent Retail Analytic Solution Providers to Watch in 2019."
APAC Business Headlines covers major industry trends in the APAC markets, and is working alongside leading players to document the opinions and the expectations of the global tech community. It also supports the established players in the market to unveil a commercial launch of their new products through its content-marketing platform.
APAC Business Headlines, a magazine that brings together CIOs, CXOs, and other technology decisions makers to speak on the evolution of technology and industry trends, has announced the release of their new edition: "10 Prominent Retail Analytic Solution Providers to Watch in 2019." While the issue reviews the key players in the Retail Analytics Industry, it also sheds light onto how these Retail Analytics companies have evolved to mature firms with their domain specific knowledge, sound marketing strategies, and innovative products. APAC Business Headlines lists Vispera Information Technologies as one of the key players in the Retail Analytics industry saying that Vispera Information Technologies has been on their radar for quite a long time. They add that this year it became clear that enterprises of all sizes alike trust the company for its incredible innovations and services in the industry.
Mark Tong, editor-in-chief of APAC Business Headlines said, "It was a great pleasure reviewing these companies, as they all had inspiring as well as thought-provoking stories to share. Rin Kachui, Senior editor at APAC Business Headlines further added, "Our editorial team has not only selected the companies on account of their services, but also on their abilities to transform the user-experience of customers. To acknowledge such companies, their CEOs and efforts, the editorial team at APAC Business Headlines has come out with a list of "10 Prominent Retail Analytic Solution Providers to Watch in 2019." The editorial team at APAC Business Headlines hopes that the proposed list and valuable insights by these industry leaders will help customers achieve their business goals efficiently.
You can view the article here.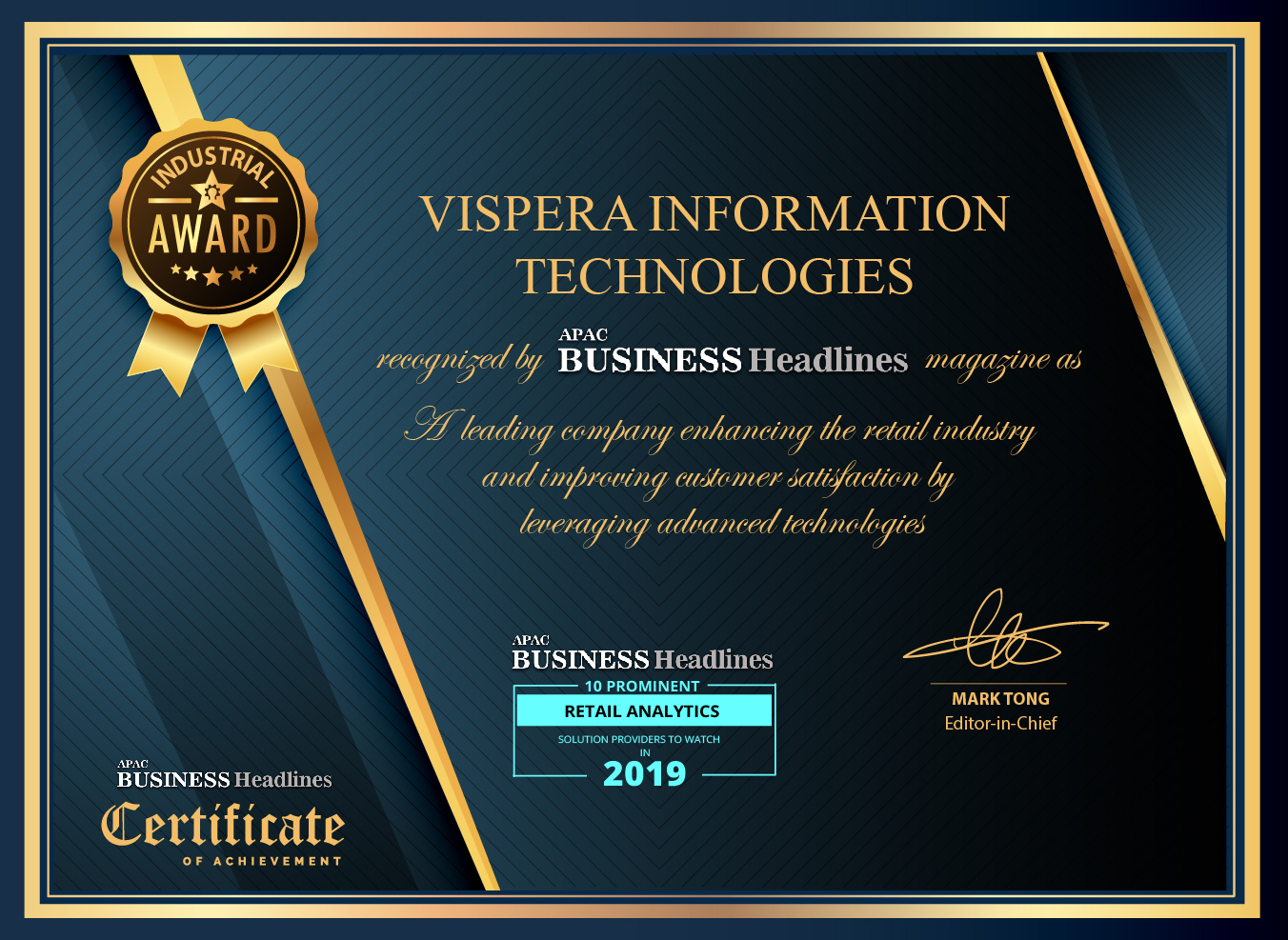 Excerpt from the article can be seen below:
"The invasive nature of e-Commerce and online retailing in the retail industry is driving shoppers' experience everywhere by making it easier and more convenient. Shoppers of the new era now have tremendously high expectations of conventional brick-and-mortar outlets. Well acquainted with excellent online shopping experiences, they know much more and are less forgiving of poorly maintained shelves or unavailable products. As such, retailers and supplier brands are presented with a great challenge to create a much better shopping experience at every outlet.
However, achieving excellence in shoppers' experiences remains labor intensive. Producing, transporting and presenting products are complex, lengthy and laborious tasks always undertaken by workers. Here, effective retail analytics technology presents the best solution as it empowers staffs to master the basics involved. Staff can ensure availability of products at all times and at every outlet, proactively maintain or replenish products, present them attractively and abundantly and ensure clear price tags. It can turn the possibility of retail success—of better sales and profitability, an excellent shopping experience and a culture of accountability—into a reality.
Vispera Information Technologies is an İstanbul-based visual intelligence startup that applies visual intelligence for demanding retail challenges. It helps FMCG (Fast-Moving Consumer Goods) suppliers and retailers drive the perfect shopping experience. Aytül Erçil, CEO, says, "With our services, we enable our corporate clients to know what is missing, what needs to be replenished, and how good their shelves are by visual intelligence."
Vispera was jointly established by its CEO, Prof. Aytül Erçil and its CTO, Dr. Ceyhun Burak Akgül in 2014. Beginning with only five people, it has grown immensely as Aytül expresses, "In 5 years we reached a team of 60 and are currently working in 16 countries with global brands like Coca Cola, Unilever, P&G, Phillip Morris, Danone, Reckitt Bencksizer, Pladis, Carlsberg, Henkel, Carrefour."
Vispera offers complete solutions to satisfy demands and expectations in retail product management. Its proprietary image recognition technology is underpinned by AI, machine learning, deep learning and a thorough understanding of retail. Aytül adds, "If Data is the new oil of the new era, Deep Learning technology is its engine. We extensively use and tailor this breakthrough technique in our image recognition algorithms." By gleaning from an accumulating collection of visuals, Vispera cultivates actionable retail product semantics.
Once its image recognition algorithms identifies missing products, what needs to replenished and faulty price tags, its KPI software will suggest actionable insights to steer retail execution perfectly. Aytül adds, "Our analytics platform aggregates KPI findings over time, store locations, and organization so that the situation can be visually described and monitored at any detail level necessary. We are also working on predictive and prescriptive recommendation algorithms to add even more value to our customers."
Its services can help save up to 80 % of field agents' time in monitoring and auditing tasks so that they can focus on marketing and promotions once merchandising responsibilities are tended to. They can then help more stores towards perfecting their retail execution. By extension, they can also completely replace third-party auditing responsibilities to cover more stores and cut down costs.
Ultimately, visual intelligence boosts brands' sales by minimizing out-of-stock products and increasing on-shelf availability. Aytül explains, "Recent research reports that every year 600 billion dollars worth of sales opportunity is lost globally due to the simple fact that the product is not available. Putting stringent, detailed, timely controls on merchandising activities with the help of image recognition, brands can make sure their products reach their customers in the way they want."
Vispera's value proposition is realized by more than 60 well-experienced R&D professionals and technical, commercial and financial experts who are well-educated from renowned international institutions. Aytül says, "Our team is our biggest asset." This team has been successfully automating business processes in diverse industries with its expertise in computer vision, image or pattern recognition and data analytics. She goes on further, "One of the major elements of our vision is to progressively develop the Vispera Technology in order to better the existing retail execution and auditing processes and add new, previously unthought-of solutions to The New Retail challenge."
Vispera is successful today strengthened by prestigious awards such as PM Equity Startup Competition Award 2019, EY Turkey Startup of the Year Award 2019 and Hello Tomorrow Top 500 DeepTechStartup 2018. It's committed to bettering the retail space and has already begun innovating and improving—it'll launch a new product based on in-store cameras to capture images automatically and thus, completely eliminate the need for human control. Its prospective advanced analytics algorithms can analyze this 'Big Shelf Data' to manage shelf performance patterns, stock availability, planogram compliance and price tags at all times. Moreover, by learning shopper dynamics such as foot fall, it can even analyze shoppers' complex behaviors.
Aytül announces one of Vispera's goals, "For our retailer clients, we want to produce intelligent recommendations in the form 'Your category Y at store X suffer from stock availability for products A, B, and C on every Saturday around 14:00'" The company firmly believes constantly innovating its technology will deliver the promise of great shopping experiences and make retail execution faster and lighter." " (Apac Business Headlines)