Grocery stores are coming closer to being one-stop shops every day, but with so many options available, it's more important than ever to make sure your store stands out and meets the needs of your customers. Every decision you make has a direct impact on your customers' shopping experience, from the products you stock to the way they're displayed and priced. Understanding your customers is at the heart of reaching the perfect store, but it takes more than that. It takes a deep commitment to retail execution and a willingness to constantly evaluate and improve every aspect of your store. By approaching each decision with a customer-focused mindset, you can create a shopping experience that truly sets your store apart.
What is a Perfect Store?
A perfect store is the ultimate goal for any grocery retail executive. It's a store where consumers can find the products they need, presented in the best possible way to influence their buying behavior. To achieve the perfect store, CPGs design and execute shelf standards that take shopper insights and turn them into practical, scalable, and repeatable in-store guidelines. Execution of perfect store not only helps shoppers find what they're looking for, but it also maximizes opportunities for the retailer and the manufacturer.
This strategy does more than just ensure the right products are on the shelves. It also articulates how the product, pack, price, promotion, place, and proposition should look in each store. In the end, the perfect store strategy creates a cohesive, actionable channel plan that enhances the shopping experience with the right assortment of products and brand messages. The result is a store that truly meets the needs of the shopper and makes a lasting impression. Whether you're a seasoned retailer or just starting out, mastering the art of the perfect store is an essential part of success in the grocery retail industry.
How to Define a Perfect Store, and How To Implement It?
Defining what constitutes a perfect store is a crucial step in the quest to reach that goal. There are several key elements to consider when defining a perfect store, including;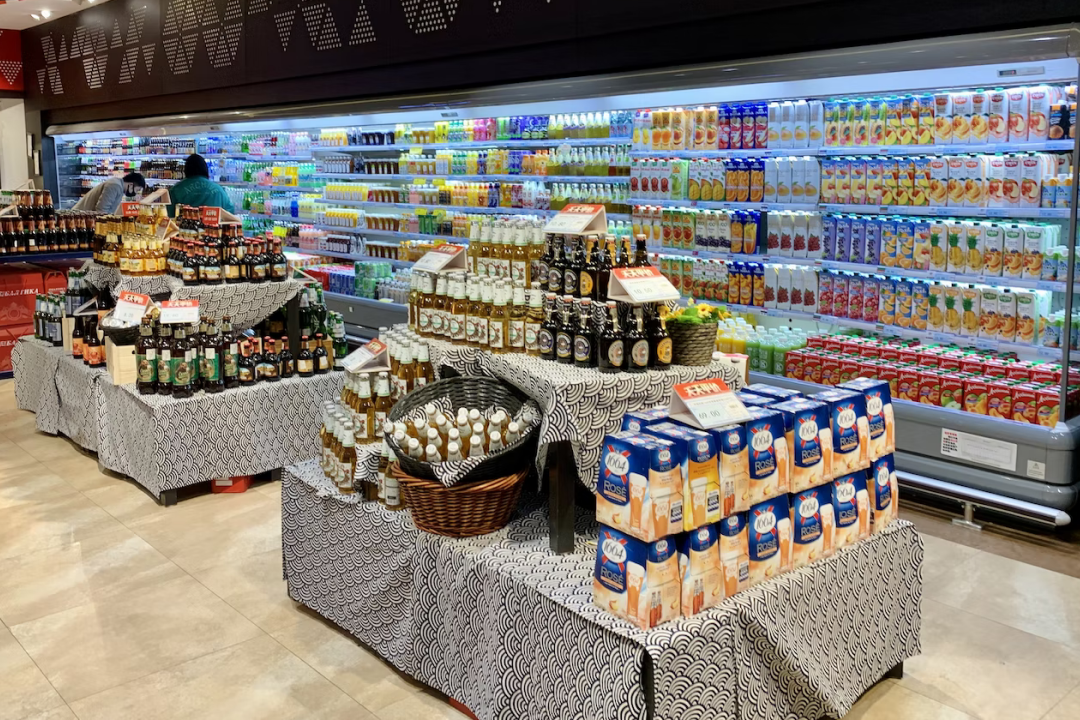 Product Placement
A well-rounded product assortment is crucial in creating a perfect store. This means offering a diverse mix of products that cater to the different demographics that your store serves, which includes both well-known national brands and lesser-known, but still highly sought-after, local brands. By providing a mix of popular and niche products, you can ensure that your customers will find what they're looking for, no matter their tastes or preferences.
Moreover, considering seasonal and regional trends can also be helpful in creating a dynamic product assortment that meets the ever-changing needs of your customers. For example, stocking products that are specific to the region, such as locally sourced produce, or offering seasonal items like grilling essentials during the summer months, can enhance the shopping experience and increase customer satisfaction.
By carefully considering the needs and preferences of your customers, you can create a product assortment that truly sets you apart from the competition.
Vispera's image recognition-based retail execution solutions help you get viable insights into your customer's demands and preferences by tracking the product performances and placing strategies on the shelves to create a well-rounded product placement strategy.
The perfect store requires a deep understanding of the shopper combined with attention to detail in retail execution, including maximizing the use of shelf space. Planogram compliance, shelf space quality, and category optimization are essential components of this process. However, with so many moving parts, it can be challenging to effectively monitor and optimize shelf space without the risk of human error. This is where technology comes into play.
Shelfsight, Vispera's solution that utilizes AI-powered image recognition to provide real-time monitoring of retail shelf availability, not only eliminates the risk of human error but also provides instant and accurate analysis to help manufacturers and retail store owners optimize their operational efficiency.
Customer Experience
Customer experience is a crucial aspect of the perfect store and can have a significant impact on a company's bottom line. Research shows that consumers are willing to pay a 16% premium for a great customer experience. Additionally, Gartner found that customer experience is the driving factor behind customer loyalty, more than brand and price combined, which highlights the importance of creating an environment that appeals to shoppers, influences buying behavior, and enhances the shopping experience.
To optimize the customer experience, retailers and CPG companies must focus on creating an environment that appeals to shoppers and influences buying behavior. This includes making sure that the right assortment of products is available, that they are presented in the best possible way, and that the appropriate merchandise and brand messages are being communicated.
Key Pillars Of A Perfect Store Strategy
A perfect store strategy is a way of optimizing your store's performance and customer satisfaction by aligning your product, price, place, promotion, people, and process with your shopper's needs and preferences. Here are the main levers that you need to master to create a perfect store for your grocery business:
Product Assortment: You need to offer the right products at the right time and in the right quantity to meet your customer's demands and expectations. You also need to ensure that your products are safe, healthy, and sustainable.
Pricing Strategy: A perfect store strategy cannot be executed without a data-backed pricing strategy. You need to offer competitive prices that reflect the value of your products and services. You also need to use promotions wisely to stimulate sales and loyalty without eroding your margins.
Placing: A perfect store should be in the right location and must have a perfect store layout and design. You need to choose a convenient and accessible location that suits your target market and category. You also need to create a pleasant and efficient shopping environment that guides your customers through their journey and maximizes their basket size.
Promotions: Promotions are the key to raising awareness and influencing purchase decisions. You need to use various channels and media, such as online platforms, social media, flyers, signage, etc., to reach your potential and existing customers. You also need to tailor your messages according to their preferences and motivations.
Field Team: A perfect store cannot operate without qualified field reps. You need to have a team of qualified, motivated, and friendly staff who can provide excellent customer service and support. You also need to have a strong and consistent brand culture that aligns with your values ​​and vision.
Operations: You need to use data and technology to optimize your inventory, replenishment, merchandising, and compliance. You also need to monitor and measure your store's performance and customer feedback to identify and address issues and opportunities.
Example of a Perfect Store Execution
To illustrate how image recognition-backed AI technology for retail can help create a perfect store, let's look at an example of a grocery store that uses Vispera's retail execution technology for various purposes.
Reckitt Benckiser doubled the number of Vision Pharmacies thanks to Vispera and increased 157% the portion of Perfect Stores KPI. Check out the full case study here.
Walmart and Costco are the first ones to come to mind on a big scale when we think about perfect store, as they both operate online and offline, offering a 360-degree, customer-centric experience by leveraging data from their stores and executing them. But the idea of a perfect store isn't for grocery moguls alone, everybody can have a well-working perfect store strategy with the right tools.
For example, let's look at Shelfsight, Vispera's fixed camera solution.
After installing cameras on their shelves and aisles that capture images of the products and their locations, the store has the ability to analyze the real-time action on the shelves, thanks to Vispera's capability of recognizing the product names, brands, categories, prices, and expiration dates. The models can also detect any out-of-stock, misplaced, or damaged items and alert the staff to replenish or replace them. This way, the store ensures that it always has the right products at the right place and in the right quantity.
Then, the store uses Vispera insights to monitor and measure its store performance and collects and analyzes data from multiple sources, such as POS, shelf and product. It tracks and measures the store's compliance with the shelf standards and KPIs while identifying and prioritizing issues and opportunities for quick and efficient actions and improvements. This way, the store improves its operational efficiency and effectiveness.
Storesense, on the other hand, creates a wider use case, helping retailers and CPG suppliers achieve the perfect store concept by providing AI-based image recognition and analytics services that transform shelf images into actionable insights and on-the-spot calls-to-action.
The solution enables the field team to visit stores at the desired frequency, take shelf images via the mobile app, and collect rich data faster and easier in various retail operations such as inventory management, planogram compliance, out-of-stock detection, promotional compliance, and share of shelf measurement.
The solution also provides analytics and insights to improve shelf performance and sales potential across all channels. With Vispera's Storesense solution, you can optimize your retail execution and tracking, eliminate manual data collection and reporting processes, and achieve perfect stores across all channels.
In conclusion, AI-based image recognition technology has the potential to revolutionize the way CPGs and retailers build and measure perfect stores in grocery retail. By leveraging this technology to optimize product placement, ensure inventory accuracy, improve shelf compliance, and enhance the in-store experience, retailers can create the perfect store that drives sales, profitability, and customer satisfaction.