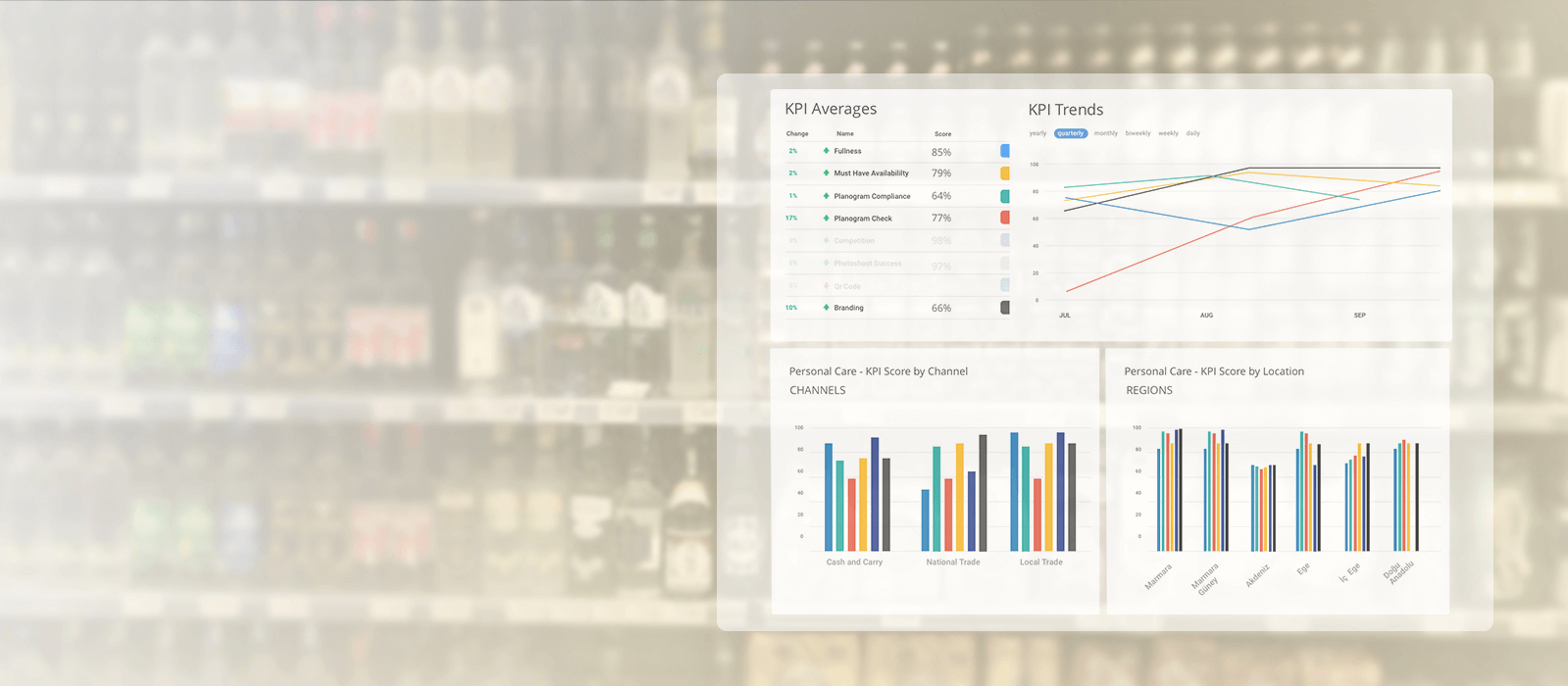 Competitive Intelligence
Vispera's Competitive Intelligence Solution lets retailers and CPGs deliver the best possible shopping experience by maximizing store productivity.
REQUEST A PILOT
Meet the ultimate competitive intelligence solution, that's powered by real-time visual data analysis. Our end-to-end in-store execution platform joins the power of visual intelligence with retail monitoring to be analyzed and get actionable insights in one platform.

With Vispera's competitive intelligence solution, CPG and retailers can gather information from the market and data-based competitor insights through executive reports.
Why Grocery Retail Should Use Competitive Intelligence Solution

Uncover market and category trends

Monitor your shelf share and pricing against competitors

Ensure penetration and distribution of NPD to boost sales
Vispera Competitive Intelligence Solution
Vispera`s Competitive Intelligence solution monitors competitive insights, measuring trends by channel and region for every product and even brand, making retailers and CPGs meet on the common ground for setting up more profitable and creative cross merchandising tactics. Also serving as a retail execution field tool, Vispera offers prescriptive suggestions on field execution to improve margins and win at the shelf, allowing CPGs to dynamically uncover market trends and adjust strategies to detect and correct performance gaps.
Vispera provides a holistic retail analytics solution in line with the competitive intelligence services to measure the complex KPIs in the competitive landscape to enable CPG suppliers to make the right decisions by considering the competition. With executive dashboards, management teams can have an immediate snapshot of the field feeding by the entire market's relevant insights. To create an even more agile picture, Vispera also tracks shelf prices in real time, adding promotion tracking into the equation. The best part is, with our set-and-go solution, all of the competitive intelligence operations happen automatically.
Get a ready-to-use overview of marketing campaigns, shelf and share compared with the competitors, and product price indexing in various filters, such as countries, channels, and retailers—and more, as Vispera doesn't offer a competitive intelligence solution alone, as it stands out from conventional retail execution tools. Instead, it's here to stand at the center of all of your retail execution operations. See how Vispera's competitive intelligence solution works here.
READ MORE
What Competitive Intelligence Solution Does
Vispera converts the data collected from the shelves into actionable insights, thus sales opportunities. With the competitive intelligence solution, CPG brands could get complete and advanced insights about the competition and the trends so that they can respond and adapt to the changing environment quickly.
Competitor Shelf Space
CPGs should keep an eye in the store on competitor products to go beyond getting compliance right in the store. You can get competitive insights about the leader of the ongoing market share in your category, together with the shelf share data that reveals who is successful in the competition.
NPD Launches
Vispera 's AI-powered solutions enable CPGs to get comprehensive competitive intelligence analytics and optimized promotional plans across all channels and single products top down. With data on sales and facings for each product, you can identify the least preferred products on the shelf and detect the most valuable areas for NPD launches.
Product Price Indexing
Thanks to the competitive insights that Vispera offers for the whole category, it is possible to adjust your own prices according to the shelf's information. By gathering unbiased data regarding competitors and your brand flowing from the shelves into a hub, we consider the pricing indexing KPI for the entire category on different channels.
Trusted by Global Brands in 30+ Countries
Hear About Vispera From Top-Tier Retail Players
Start a New Era for In-Store Digitalization, Today
We are Vispera. We lead in digital transformation, driving breakthrough computer vision solutions for retail. Vispera's competitive intelligence provides the intelligence needed to succeed in a dynamic retail world. Schedule a demo today and experience the magic.
Vispera Retail Intelligence Solutions