Visit Vispera's virtual booth, number B-2C, at Supermarket Innovation Summit held in digital on 2, 3 & 4 November 2020.
At Vispera, we have the vision to make image recognition a commodity service for the whole retail sector. Vispera provides its state-of-the-art machine learning & image recognition technology to improve retailers and CPG suppliers' store performance globally.
Vispera brings together the retail shelf monitoring and management system together! It is possible for retailers to analyze the shelves for out of stock detection, planogram compliance, and space detection; and ultimately get operational excellence by enabling immediate on-the-spot store actions with Vispera solutions!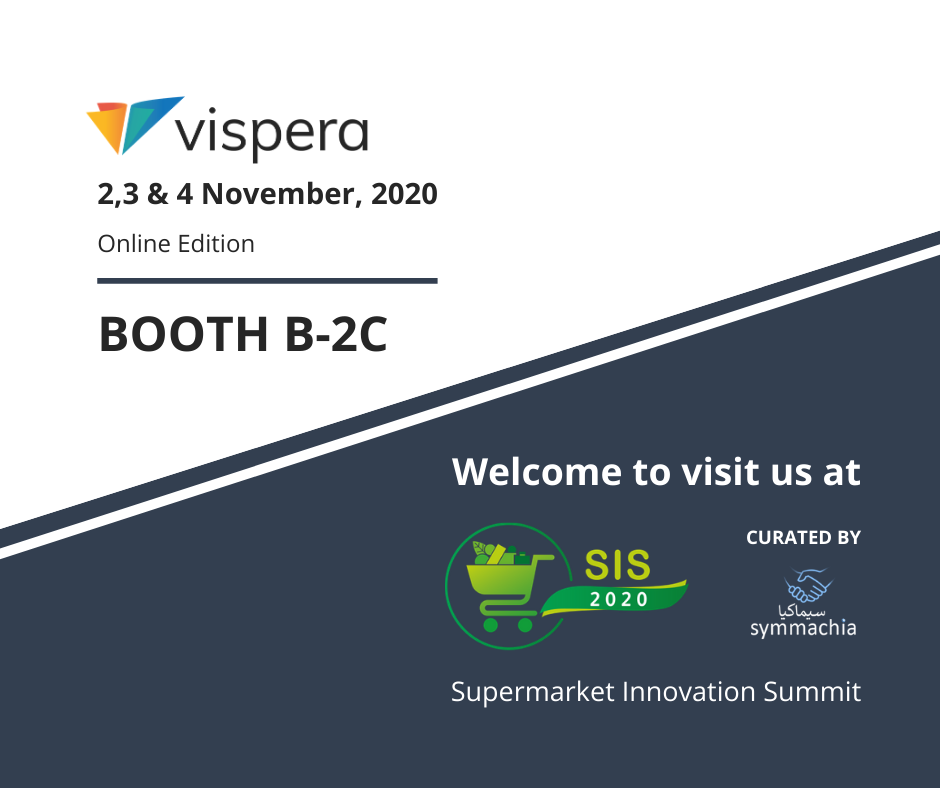 Supermarket Innovation Summit is an exclusive online platform to host leading food retail professionals from countries across the Middle East. Participants will have a wealth of information to accelerate the adoption of innovation and technology to create better in-store and seamless digital interactions.
At SIS 2020, Vispera will showcase its end-to-end solution family for the future of the retail sector. Vispera will inform attendees about its innovative and high-tech image recognition solutions for the retail industry and feed them tips about executing in-store operations in the most optimized way. After visiting Vispera's virtual booth, attendees can discover how to improve whole retail digitalization processes, setting up strategies according to shelves and shopper insights, smartly managing the category & space planning, while tracking the shelf prices and team performance.
Be Vispera's guest at SIS'20, booth B-2C, to see how image recognition technology-based retail solutions can support and improve the in-store experience. Vispera will be waiting for you to welcome at SIS'2020!